Have you ever sat back and wondered, "why do guys wear undershirts?" If so, you're not alone. It's just not something people talk about very much.
However, undershirts have some very important purposes, some of which you may already be familiar with. Others just might surprise you.
In fact, the undershirt is one of the most versatile and crucial parts of every man's wardrobe.
Here's everything you need to know about why men wear undershirts.
Why Do Men Wear Undershirts?
There are quite a few practical reasons men wear undershirts.
Some wear them just because it completes the outfit, or because they were told they are supposed to.
But most men choose undershirts because they are comfortable, they protect their clothes, and they smooth and cover up imperfections.
1. They Are Comfortable
The first and most common reason men wear undershirts, assuming you pick the correct one, is that they are soft and comfortable.
Soft undershirts can help protect your skin from an itchy or rough dress shirt.
If your current undershirt isn't buttery soft, you are either wearing the wrong type of undershirt, or just might be wearing a t-shirt.
Don't be fooled—they (undershirts & t-shirts) are not the same thing. It is important to remember that an undershirt is an underwear, while a tee is outerwear.
2. They Regulate Your Temperature
Although a quality dress shirt can feel good directly on your skin, wearing an undershirt can also help regulate your temperature.
Depending on the type of undershirt you have, it will either keep you warm in the winter or cool in the summer.
In short, when you choose the proper one, undershirts serve the crucial purpose of helping keep your body temperature regulated.
If you work in an office that constantly has the air conditioner cranked on high and know you will be cold, choose a thicker undershirt to add a bit more warmth.
If you foresee a day with a lot of activity or with higher temperatures and the possibility of sweating, choose an absorbent undershirt that is extra-breathable. You will also need a shirt that lets the air flow freely through the material so your body temperature remains stable and comfortable.
You need to choose an undershirt made from fabrics designed for your needs or for the current season.
Best Undershirts for Hot Weather
When you buy an undershirt in the summertime, you need to pick out breathable and lightweight fabrics.
Choosing undershirts with superior moisture-wicking and moisture-absorbing yarns will help you stay cool all day long. This means you will stay comfortable and dry for hours, even if you're wearing a suit jacket.
If you're looking for thin, lightweight undershirts, these the ones we offer for keeping you cool:
Retro Fit Tri-Blend - This undershirt has a unique blend of moisture-wicking and moisture-absorbing yarns to keep you dry and comfortable. It is also extremely soft and lightweight
Retro Fit 50/50 - Another excellent lightweight undershirt option, this undershirt also features a blend of both moisture-wicking and moisture-absorbing yarn but in a looser fit
EVO TENCEL - This is the most absorbent fabric of all three undershirts. Plus, it is extra lightweight and breathable
If you are a man who sweats quite a bit and notice sweat accumulating on the outside of your dress shirt, you should consider trying out our EVO TENCEL. This undershirt does a great job of moisture management & distribution.
A customer raved about the EVO TENCEL undershirt he recently purchased, highlighting how it was a total game-changer for him professionally:
Comfortable, snug, and firm! You can't even tell you're wearing them with the added bonus my professional shirts feel better and my sweat and perspiration are absorbed now!

It feels great to dress professional more every day and I would highly recommend these T-shirt's to wear under the professional shirts. Total game changer!!!

-Thomas
Best Undershirts for Cold Weather
You might not sweat in the winter, but you will appreciate another layer of fabric to protect you from the cold winds, or a freezing office.
Rather than reach for a bulky, itchy sweater, prepare for the lower temperatures each morning with a comfortable undershirt that feels like a second skin. A short-sleeved undershirt with the right fabric blend will do an impressive job at keeping your core warm, while not sacrificing personal style.
A medium-weight undershirt is usually the warmest style the average man needs.
Don't be mistaken, however. Just because these undershirts keep you cozy, it doesn't mean they have to be thick or bulky.
Modern undershirts for cold weather are made with smart fabric blends that do a great job of insulating.
If you're in search of an undershirt that can keep you warmer in cold weather you may want to consider our medium-weight MicroModal undershirt.
Be aware that medium weight shirts do wear warmer than lightweight undershirts, so you may not want to wear these in the heat of summer or if you will be in a place without air conditioning.
If you tend to sweat year-round, even in the coldest months of the year, a lightweight undershirt may be your best bet.
3. They Protect Your Dress Shirts
Another reason men wear undershirts is that they protect dress shirts from deodorant stains.
In fact, wearing an undershirt can greatly increase the longevity of your valuable business shirts.
Investing in some high-quality undershirts could mean you purchase fewer dress shirts because you don't have to keep replacing them.
Choose a durable undershirt that will retain its shape even after repeated washings, as its one of the best investments you can make in your wardrobe.
4. They Help Avoid Embarrassing Faux Pas
All of us have parts of our appearance we'd rather not showcase to the world, particularly out in public. The right choice of undershirt can help avoid embarrassing, unsightly fashion faux pas.
Virtually all men will appreciate how undershirts smooth and cover things like chest hair.
While you may want to show off your hair-covered torso on the weekend, most people prefer to keep chest hair from sneaking over the top of their button-down in the office.
Additionally, protruding nipples can be an uncomfortable and embarrassing sight for many men.
A well-fitting undershirt with a bit of compression will help reduce the appearance of nipples peeking through your shirt.
A nice undershirt will prevent fashion faux pas and give you a boost of confidence.
5. They Help You Stay Well-Dressed
The visual goal of an undershirt is to keep it invisible.
To help keep the appearance of an undershirt hidden, just pick an undershirt that most closely matches your skin tone.
If you have fair skin, pick a white undershirt
Choose a tan color if you have medium tone skin
Those with even darker skin tones should pick a grey or darker tan colored undershirt
Should Men Wear Undershirts?
The vast majority of the time, the short answer is yes, men should wear undershirts as often as they can.
Undershirts should be a normal part of your dressing routine. They should be as normal as wearing underwear.
That being said, there are a few occasions in which wearing a certain type of undershirt might not work the best.
Do Not Wear Dark Undershirts With Light Shirts
The point of an undershirt is to smooth and protect. They should also perform those functions while staying invisible.
Avoid wearing a dark-colored undershirt with a light-colored dress shirt. Remember, the goal is to pick something that matches your skin tone as closely as possible.
If you have a black or navy blue dress shirt, you don't have to worry about the color of your undershirt as it will not likely show through.
This rule only applies if your business shirt is lighter-colored.
Do Not Wear An Undershirt That is Too Large
Bulky undershirts that bunch up are not only uncomfortable, but they also look sloppy and unprofessional.
It's important to wear an undershirt that fits you perfectly, so opting for one that hugs close to the body is generally recommended over one that is looser fitting.
Before buying an undershirt, be sure to refer to the manufacturer's sizing guide. These guides explain how to best match your measurements to their products.
Don't Wear Only Sleeveless Undershirts
Tank top style undershirts work well in a few occasions, but shouldn't be your go-to choice.
The sleeves of an undershirt absorb sweat. So if you wear a tank top, you are giving up that extra protection.
Tank top undershirts are classic, but most men will feel more comfortable and confident if they have undershirts with sleeves.
Do Not Let the Neck Line of the Undershirt Show
How do you like to wear your dress shirts?
Do you button them clean up to your neck, or do you prefer to leave them slightly unbuttoned?
This answer will determine the neckline of your undershirt.
Pick a neckline that will stay hidden underneath your shirts. Avoid the undershirt showing through the top of your shirt.
Undershirt or Not: When To Wear an Undershirt
As important as undershirts are, there is a right time and a wrong time to wear them.
Just remember these easy rules and you'll be the best-dressed (and most comfortable) person in the room.
Here are three situations where men often skip undershirts.
However, these scenarios are ones in which you should always wear an undershirt with your outfit. Here's why.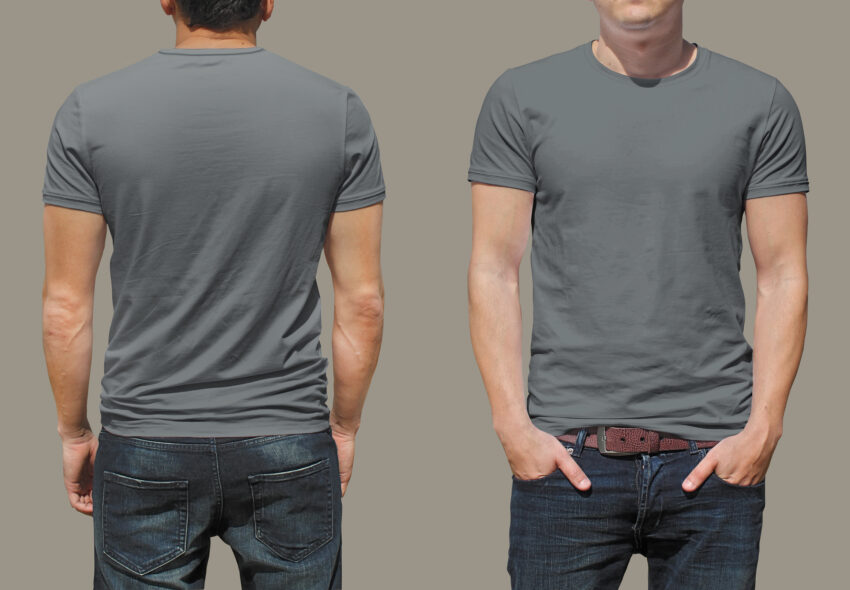 1. Wear An Undershirt With White Dress Shirts
White dress shirts tend to be the most see-through colors of dress shirts.
Many men know to wear an undershirt with a white shirt to avoid experiencing unintentional nipples showing, chest hair exposure, and other fashion faux pas.
However, some undershirts show right through a white dress shirt, making your appearance sloppy and unprofessional.
What's a man to do?
Thankfully, there's an easy solution. Pick an undershirt that closely matches your skin tone.
Make sure not to wear a white undershirt as this is the type that will show through.
Reach for a skin-tone colored undershirt, and even under a white dress shirt, the undershirt will not show through!
2. Wear An Undershirt With Stiff-Fronted Dress Shirts
Have you ever worn a stiff-fronted shirt for a black-tie affair that itched? The feeling can be almost unbearable.
Thankfully, super soft undershirts are the answer.
The undershirt will protect your skin, and that itchy dress shirts won't bother you one bit.
3. Wear An Undershirt On Cold Days
On colder days, an undershirt can help you stay warmer by adding a thin layer of insulation.
If you opt to wear a sweater or other high-necked apparel on these chilly days, a crew neck shirt will be your best choice. It will cover more of your skin and keep you comfortably toasty.
Video Guide to Undershirts
The world of undershirts is a surprisingly in-depth topic that confuses many men. If you were always curious about undershirts, you aren't alone.
The Gentleman's Gazette covered this topic thoroughly in their video below.
There are a few drawbacks to undershirts, particularly the wrong kinds of undershirt, which he explains very well. The video also includes some some pros and cons of wearing undershirts.
If you ever had any questions about why to wear an undershirt or when to wear an undershirt, they are covered in this video.
More Undershirt Questions, Answered
There you have it. Now you know why men wear undershirts, and how to choose the proper one to stay comfortable and stylish.
We are always here to answer any questions that you may have. To us, there is no silly undershirt or underwear question.
So, please feel free to drop us a line with your question and we'll be happy to assist you!